TURN SIGNALS
The Lumos Ultra comes with the Lumos Remote Lite. You can activate turn signals via the included Lumos Remote Lite or the optional upgraded Lumos Remote. You can also use the Lumos App on your smartphone/apple watch to activate turn signals if you'd like to.
AUTOMATIC BRAKE LIGHTS OPTION
As a default, the Lumos Ultra does not support brake lights. However, if you decide to purchase the Lumos Remote upgrade, you will be able to enable the brake light feature. It utilizes an accelerometer in the Lumos Remote to detect when you slow down. When this happens, your Lumos Ultra will flash a series of bright flashing patterns to draw attention to you.
LUMOS COMPANION APP
The Lumos Companion App allows you to truly customize your helmet for your riding needs. You can customize your light flashing patterns, turn signals, brakelights, check your battery life and much more. You can also track your rides and sync with Strava and Apple Health.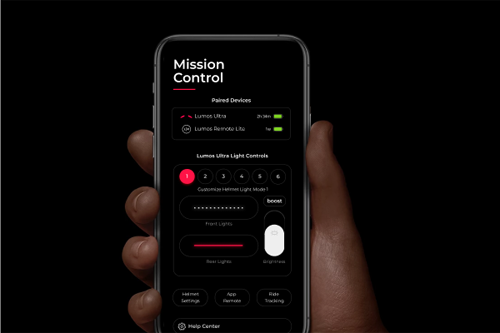 TEAM SYNC FEATURE FOR GROUP RIDES
Lumos latest Team Sync feature allows you to synchronize your flashing patterns with other Lumos Ultra's in the vicinity. This not only looks better but also gives you an additional level of visibility as they stand out more. This is great for people who ride with family or friends.
CHARGING CABLE
The Lumos Ultra charges via an included USB-C charging cable.
WEATHERPROOF
The Lumos Ultra is IPX6 waterproof. This means that it can perform even in the hardest of storms.
MIPS UPGRADE OPTION
MIPS stands for Multi-directional Impact Protection System, which is a leading slip-plane technology inside the helmet designed to reduce rotational forces that can result from certain impacts. MIPS has been developed by leading brain surgeons and scientists to reduce the rotational forces on the brain caused by angled impacts to the head.
MIPS uses a slip-plane system that moves inside the helmet, mimicking the brain's own protection system. This layer is designed to rotate inside the helmet with the intent to potentially slow or reduce the amount of energy transferred to or from the head. Science tells us that if we can reduce the strains associated with rotational acceleration, we might reduce the risk and severity of brain injury.
A MIPS-equipped helmet looks almost identical to a non-MIPS-equipped helmet except for when you look inside, you will see a thin yellow liner beneath the pads. From the outside, the only indicator that the helmet is any different to one without MIPS is that some brands have a small yellow MIPS logo on there. You won't even feel a difference when wearing a MIPS-equipped helmet.
All Lumos helmets, MIPS or not, are 100% crash tested and fully certified to give you the protection you need during a crash according to multiple international safety standards. The MIPS layer just provides an additional level of safety.
DETAILS
Size
Length: 10.83″ (27.5cm)
Width: 8.27″ (21cm)
Height: 6.10″ (15.5cm)
Weight
LED Configurations
Front: 30 White LEDs
Rear: 64 Red LEDs
COB LEDs for a more uniform look
Turn signal capable
Automatic brake lights (optional upgrade)
Battery
Battery Life: 4-10 hours dependent on settings
3.7V 1100mAh Lithium Polymer rechargeable battery
3 hours charging time
Wireless
Other Features
Apple Watch
Apple Health
Strava Compatible
CERTIFICATIONS
Please note that specifications are subject to change without prior notice.