Fuss-free wireless charging
Bid good riddance to tangled cables because Firefly charges with any standard Qi wireless charger, even Magsafe! Charging your bike lights has never been this easy.
If you don't have any wireless chargers,  LUMOS offers the following additional charging options:
Single Charging Cradle
Quad Charging Mat
Handlebar End Mount
We designed these mounts to drastically improve your side visibility. These mounts are angled so that they can be seen 260 degrees from both the rear and the sides.
Each handlebar end mount comes with an integrated foot so that you lean your bike against a wall.
The mounts can be placed on any handlebar end ranging from internal handlebar diameters from 16.75mm -19.5mm / 0.66inch – 0.76inch.
Turn Signal Mount
A sleek dedicated mount to enable you to mount 2 Firefly lights onto the front and rear of your bike. At 20cm apart, they act like the turn signals you'd expect on a motorized road vehicle. Now you're speaking the language of the road.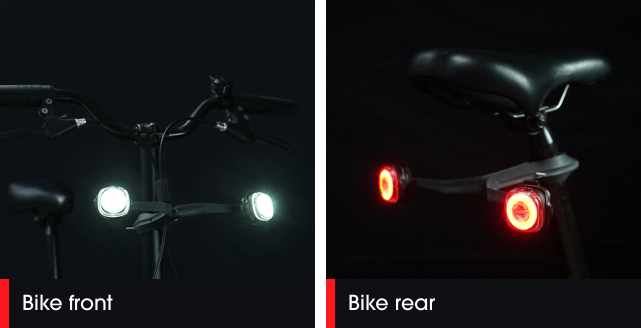 Universal Mount
This mounting option is included with every Firefly and allows for mounting on either the front handlebar, rear seat post, forks of the bike, scooters, bags, helmets, and more.
Remote + Handlebar Mount
Use either the LUMOS app or the Remote to activate turn signals and automatic brake lights.
If you already have the LUMOS Remote for your helmet, it will work with your LUMOS Firefly. Only one Remote is required to control the whole system.